Now that the debut of Karate-do is completed in the Olympics, we are back with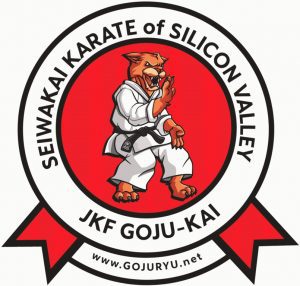 on site – in person training combined with "ZOOM"! All access doors (for indoor training) will remain open, regardless of climate and face masks shall remain MANDATORY, unless the Covid / Corona transmission rate is R0≤1. In the meanwhile we continue outdoor training in Menlo Park on Tuesday evenings and via ZOOM on Wednesday evenings and Sunday afternoons. This hybrid training shall continue until further notice at the following locations and times:
To join the scheduled training video conference, click the following link:
Structure is necessary while attending class either in the dojo or remote video training. Please refrain from distractions such as answering you phone or taking selfies. Also, stay in frame of the camera, ask others for private time to focus and participate at all times. Tuition remittance for Los Gatos Saratoga Recreation or Menlo Park recreation should be paid directly to the governing city agency. Tuition remittance for off site sessions, Shelter in place, and/or remote video training should be sent via Paypal, Venmo or Square in a timely manner. Please save your digital receipts. SKSV tuition is tax deductible (SEIWAKAI KARATE of SILICON VALLEY is a registered non-profit).
In the very near future – depending on my evolving work schedule, the Saturday and Sunday schedule may be revised until my on duty hours are set Monday – Friday. Until then I'll continue to expand available classes at the primary two locations of Menlo Park recreation and Los Gatos Saratoga Recreation.