Do-gi Review for 10 Kata Model Dogi from 8 Brands
Before my trip to Japan in August 2023, I decided to undertake the task of reviewing 10 Kata model dogi from 8 different brands. As someone who stands at 6'3″ (190.5 cm) tall, finding the right-sized dogi is crucial, especially for travel and competition. Preordering custom-sized suits can be time-consuming and requires some finesse, but it's essential for a comfortable fit. There may be a few additional thoughts after this post goes live so I'll add additional data here and there over the next few days.
Here's a list of the dogi I reviewed:
Hirota Takumi tailored cut
Shureido NW2 tailored cut
Arawaza Black Diamond
Shureido NW2 Standard cut
Hirota MH12 standard cut
Hayashi Katamori
Kamikaze New Life Shihan
Tokaido Kata Master
Tokyodo JKGA
Mugen (from KI International) Orange
KI International Black do-gi with the 0419 canvas
I've included detailed measurements and insights into each dogi to help fellow martial artists make informed choices when it comes to their training gear. The right dogi can significantly impact your performance and comfort during training and competition.
Feel free to reach out if you have any questions or need additional information about these dogi models.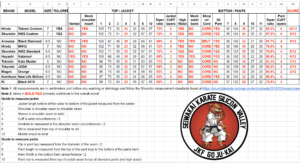 Gojuryu.net Do-gi comparison chart
Hirota Takumi: The Hirota Takumi dogi is a standout. It's made from a Poly/Cotton blend that's highly breathable, making it perfect for warm weather environments like Okinawa and Japan. I had the opportunity to try it on while in Japan, and it's near perfect for me. The fabric feels similar to the Shureido NW2, which I always find comfortable. Custom-tailored dogi are the way to go, as they allow for unrestricted movement and comfort. I'm considering ordering one of these for myself.
Shureido NW2: The Shureido New Wave 2 (NW2) is my gold standard for comfort. It's also a polyester and cotton blend, lighter than the NW3. Custom-tailored suits are a great choice, but they do come at a cost. Detailed measurements of your current gear are essential for getting the right fit. A well-fitting dogi enables your body to move freely without any resistance from the clothing.
Arawaza Black Diamond: The Arawaza Black Diamond is a heavyweight dogi with a slightly tight fit. If I had known it ran small, I would have ordered a size larger. Despite the snug fit, it performed well. The heavy cotton fabric provided excellent sound during movements, and the vented jacket made it more bearable to train in hot conditions during the summer in Japan. I even wore this dogi for the competition and placed 9th out of 32 participants, despite being the only competitor over 6 feet tall.
Shureido NW3: The off-the-rack Shureido NW3 fits quite well in terms of general sizing, but it may need some adjustments, especially in length. It's not cut for Western body types, so you might want to buy a larger size and make alterations accordingly. The product itself is recommended, but it's crucial to find a skilled seamstress or tailor to make the necessary modifications. Shureido can also perform these modifications for you, although it comes at a premium.
Hirota MH12: The Hirota MH12 has a similar cut to the Shureido NW3 but is more adequately designed for those with longer legs. It doesn't require alterations and tailoring for length.
Hayashi Katamori: Unfortunately, we had to return the 100% cotton Hayashi Katamori dogi as it was too small for a size 6.5, as indicated by the chart measurements. It's possible that this dogi might fit better at a size 7.5, and it seems to share similarities with the Arawaza Black Diamond, albeit missing some finer details, which is reflected in its lower price.
Kamikaze New Life Shihan: The Kamikaze New Life Shihan boasts a modern cut designed for Westerners and is made from a nearly heavyweight canvas of 100% cotton. It pleasantly surprised with its comfortable brushed fabric and 3D cut pants. This German brand delivers excellent value for the price.
Tokaido Kata Master: The Tokaido Kata Master dogi has been sitting in the closet for months due to its unusual cut. It appears to be designed with a style reminiscent of 1970s Karate enthusiasts. It might be worth contacting the distributor to inquire about the age of this product.
Tokyodo JKGA Label: Similar to the Tokaido Kata Master, the Tokyodo JKGA Label features an old-school cut that might not align with modern preferences. It might be a good idea to consider selling both of these on eBay.
Mugen – Orange Label: The Mugen Orange Label offers a standard cut designed for Westerners but tends to run about half a size too small. Despite the sizing issue, this brand's label is better than expected for those on a budget, making it suitable for beginners. The Japanese family-owned distributor, located in Los Angeles, provides embroidery services and is known for its reliability and customer service.
KI International – Black 0419: The KI International Black 0419 appears to be a basic karate do-gi suitable for workouts where you don't mind stains or wear and tear. While the fit may not be the best for your size, it can serve its purpose if needed.
BRAND
MODEL
SIZE
Custom
TOP / JACKET
BOTTOM / PANTS
SCORE
Vented
Mesh shoulder insert
1
2
3

4

5
6
12
Jacket Taper ratio
Jacket CUFF layers

High waist

Mesh waist band

Strap -or- Cord

3D Pants

7
8
9
10
11

Pant Taper ratio

Pant Cuff layers
Hirota
Takumi Custom
7
YES
NO
Yes
105cm
72cm
52cm
24cm
32cm
68cm
87cm
75%
6

YES

NO

CORD

YES

40cm
104cm
38cm
27cm
32cm
95.0%
6
10/12
Shureido
NW2 Custom
7
YES
NO
NO
102cm
72cm
51cm
23cm
32cm
67cm
87cm
72%
6

YES

NO

CORD

YES

39cm
104cm
34cm
26cm
31cm
87.2%
6
9/12
Items in BOLD RED contribute to the overall score!

See bottom for legend

Arawaza
Black Diamond
6.5
NO
YES
YES
100cm
67cm
48cm
20cm
29cm
60cm
81cm
69%
4
YES
YES
BELT
YES
36cm
100cm
33cm
21cm
28cm
91.7%
4
9/12
Shureido
NW3 Standard
6.5
NO
NO
NO
102cm
71cm
56cm
23cm
32cm
67cm
91cm
72%
4
YES
NO
CORD
YES
39cm
123cm
30cm
26cm
30cm
76.9%
4
8/12
Hirota
MH12
7
NO
NO
NO
102cm
71cm
56cm
23cm
32cm
68cm
91cm
72%
4
YES
NO
CORD
YES
38cm
106cm
30cm
26cm
30cm
78.9%
4
6/12
Hayashi
Katamori
6.5
NO
YES
YES
100cm
66cm
48cm
20cm
29cm
60cm
81cm
69%
3
YES
YES
CORD
YES
36cm
100cm
32cm
22cm
28cm
88.9%
3
6/12
Kamikaze
New Life Shihan
6.5
NO
NO
NO
97cm
72cm
56cm
22cm
34cm
68cm
85cm
65%
4
NO
NO
CORD
YES
36cm
104cm
32cm
26cm
32cm
88.9%
4
3/12
Tokaido
Kata Master
6
NO
NO
NO
98cm
70cm
45cm
22cm
31cm
63cm
80cm
71%
4
NO
NO
CORD
NO
36cm
100cm
30cm
27cm
30cm
83.3%
4
3/12
Tokyodo
JKGA
6.5
NO
NO
NO
96cm
74cm
48cm
22cm
32cm
67cm
87cm
69%
4
NO
NO
CORD
NO
34cm
108cm
30cm
29cm
28cm
88.2%
4
2/12
Mugen
Orange
6.5
NO
NO
NO
96cm
74cm
49cm
22cm
34cm
68cm
85cm
65%
2
NO
NO
CORD
NO
36cm
104cm
32cm
29cm
33cm
88.9%
2
2/12
KI
Black 0419
7
NO
NO
NO
99cm
72cm
54cm
23cm
35cm
67cm
88cm
66%
3
NO
NO
CORD
NO
37cm
122cm
29cm
27cm
32cm
78.4%
3
1/12
Legend:
Note 1: All measurements are in centimeters and before any washing or shrinkage and follow the Shureido measurement standards found at shureidokarate.com/wp-content/uploads/2018/02/measurmeent-guidelines.jpg
Note 2: Items in BOLD RED primarily contribute to the overall score!
Guide to measure jacket
1
Jacket lengh bottom of the collar to bottom of the jacket measured from the center
2
Shoulder is shoulder seam to shoulder seam
3
Sleeve is shoulder seam to wrist
4
Cuff is wrist circumference / 2
5
Armhole is measured at the shoulder seam circumference / 2
6
Slit is measured from top of shoulder to slit
12
Middle neck to wrist
Guide to measure pants
7
Hip is pant leg measured from the diameter of the seam / 2
8
Pant length is measured from the top of the pant loop to the bottom of the pants hem
9
Hem Width is the bottom hem circumference / 2
10
Pant rise is measured from top of crotch seam to top of standard pants (not high waist)
11
Waist
Johnpaul Williams