On Monday, July 4th 2022, Independence Day in the USA, we ventured off for our flight to Los Angeles connecting in LAX and then on to Narita Airport.
We landed in Japan on Tuesday evening July 5th at approximately 5 pm or so. Japan is 17 hours ahead of California during the summertime. It takes approximately 2 hours (give or take) to get through customs, find your luggage, pick up your Japan Rail pass and book a ticket on the NEX train into Tokyo from Narita. Therefor, instead of going straight to our Seiwakai Gasshuku in Omagari Daisen, we will stay in Tokyo for the night and explore the area tomorrow.
I really haven't had the opportunity to traverse the Tokyo area in years and should take the opportunity to do so considering I've been back and forth to Japan some 60 times now. Therefore I present to you my favourite store in the whole wide world, Shureido!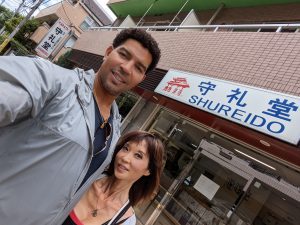 Tonight, we will stay near Tokyo station and tomorrow, July 6th we will travel to the Akita region to join the rest of our group for training.