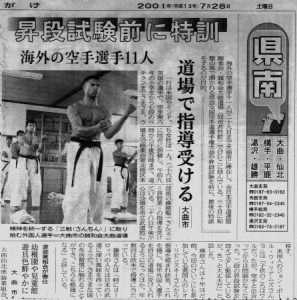 説明が必要な不正確な日本の新聞 Inaccurate Japanese newspaper that needs correction
私は長年、このことについて書こうと考えてきました。しかし、私は謙虚でいることを選びました。日本の友人からtwitterで説明を求めるメッセージを受け取ったので、今、これを変えなければならない。
2001年の夏、7月28日(土)に行われた合宿で、大曲大仙市の地元新聞社から港沢支局の取材がありました。
その記事は、私が "米国人のポー・ル・ウィリアムズさん色は「子供のころはルワワだった、空手と出会い "はなくなったが、二段昇段試験を 控えて少し緊張している、きっと大丈夫だ」と言った "と引用しています。
それは決して私が言ったことではありません。私が言ったこととは全く逆なのです。私は「子供の頃、いくつかの養護施設に預けられ、いつでもどこでも何度も空手に戻り、その後、常設の道場を見つけ、トラブルから逃れるために警察官候補生になった」と具体的に述べました。さらに、"私の道場ではすでに三段で、二段の試験もそれほど緊張していません。"と続けました。
この新聞は完全に間違っており、今でも私はその記事を非常に不快に思っています。しかも、その記事は私たちの主催する道場、館長の藤原先生、そしてすべてのアメリカ人に対して不快感を与えるものだった。私の意見では、新聞社か翻訳者のどちらかが露骨な人種差別主義者か、悪意を持って嘘をつきたかったかのどちらかであると思います。私はまだ、正式で公的な謝罪を待っているところです。
---
I have thought of writing about this for many years. Instead, I choose to remain humble. I have to change this now after receiving a message on twitter from a friend in Japan asking for clarification.
During a gasshuku in the summer of 2001, on Saturday, July 28, the Minato-Sawa Branch Office interviewed me for the local newspaper in Omagari Daisen Akita Japan.
The article quoted me as having said "米国人のジョンポー ル・ウィリアムズさん 色は「子供のころはワ ルだったが、空手と出会 ってからは問題がなくな った。二段昇段試験を 控えて少し緊張している。 が、きっと大丈夫だ」と" which translates as "Johnpaul Williams, an American, said, "I was bad as a child, but since I got into karate, I don't have any problems anymore. I'm a little nervous about my Nidan test, but I'm sure I'll be fine."
That's not what I said in any way. It's the complete opposite of what I said. I specifically stated that "as a child I was in several foster homes and returned to Karate several times when and where-ever I could before later finding a permanent dojo and joining the Police Cadets to stay away from trouble." Furthermore, I continued with "I'm already a 3rd dan (三段) at my dojo and not too nervous about my Nidan test here."
The newspaper was completely incorrect and even today I consider their article very offensive. Furthermore, it was offensive to our host dojo, the cheif Sensei Fujiwara and all Americans. In my opinion, either the newspaper or the translator was either blatantly racist or wanted to lie with ill intent. I am still waiting for a formal and public apology.