The original article – https://www.karatedo.co.jp/news/20200916/19124.html
Yoshihide Suga holds a 2nd Dan Gojuryu Karatedo and is the President of the Parliamentary Federation for the promotion of Karate-do. He became the 99th Prime Minister on September 16th 2020.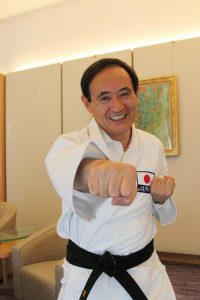 On Wednesday, September 16, Yoshihide Suga, the president of the Liberal Democratic Party, was elected the 99th Prime Minister as a result of the prime minister nomination election held at the plenary session of both houses of the Japan National Diet. He Is the successor of Shinzo Abe.
Mr. Suga was a member of the Goju-ryu Karatedo Club when he was a student at Hosei University and acknowledges the training as having strengthened his mind and body.
Speaking to the All Japan Karate-do Federation in 2014 for its magazine JKFan, Mr. Suga said, "What I developed through karate-do has served me well since I entered politics. I am keenly aware that the mental strength to endure difficulties was forged in the karate-do club."
Mr. Yoshihide Suga became the President of the Parliamentary Federation for the Promotion of Karate-do, when it was established in June 2014. At that time, karate was rallying to become adopted as an official event at the Tokyo Olympics, and despite the position as a member of the Diet, Mr. Yoshihide Suga has contributed to the spread of karate competitive spirit as a sport.